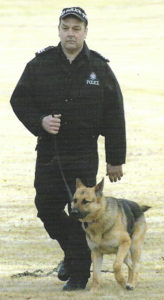 It is with deep sadness that we notify our membership of the loss of our colleague Billy Ritchie who lost his battle with Leukaemia on Friday 15 January.
Billy was 59 years of age and joined the Ministry of Defence Police in August 1990.
He served at Coulport in a variety of roles, the majority as a dog handler as was his passion.
Billy is survived by his loving wife Gillian and children Craig and Amy.
Billy's loss will be felt by all who knew him and the wider Police family. He was a wonderful character and an extremely popular member of the team at Coulport. Our thoughts and prayers are with Gillian, Craig and Amy as well as all of his family, friends and colleagues at this sad time.
His funeral will be held, for close family on the 10th February.
DPF members wishing to view a webcast of the funeral service can log in to the DPF website and find further details via the following password protected page – please click here.
A tribute written by Billy's son Craig can be read by clicking the following link: https://craigritchie2007.medium.com/memories-that-will-last-a-lifetime-8653b6a1f6b7
Eamon Keating
National Chairman
Mitch Batt
General Secretary