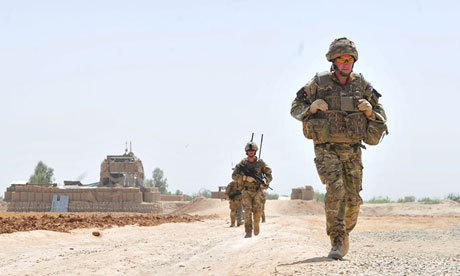 Military chiefs are accused of complacency by failing to protect the UK's biggest base in Afghanistan from a devastating Taliban assault that killed two US marines and wounded 16 British and American troops. In a damning report, MPs said military commanders had left Camp Bastion in Helmand province vulnerable to insurgents with more than half of its guard towers left unmanned on the night of the attack.
On 14 September 2012, 15 heavily armed Taliban fighters disguised in American uniforms walked straight in, opening fire at troops and attaching explosive charges to US harrier jump jets.
They were only repelled after a four-hour firefight which resulted in the biggest loss of US aircraft in a single day since the Vietnam War. Prince Harry was among the British troops on the site during the assault.
A six-month inquiry by the Commons Defence Select Committee was prompted by revelations in The Independent that the Ministry of Defence had refused to pay for the optimum level of protection recommended for soldiers. Concerns were raised about the airfield's vulnerability months before the deadly attack took place.
But a recommendation that a protective fence be built around the airfield was rejected on cost grounds and British commanders failed to take basic measures to protect it.
Yet in contrast to the fate of two American generals who were forced to retire early last year after a US army investigation into the attack, their British colleagues have been rewarded with promotions.
In its report, the committee said the defences around Camp Bastion were "inadequate" with troops exposed to "unnecessary risk". It suggested that commanders were more focused on the danger of an "insider" attack and with combating Taliban violence elsewhere in Helmand.
The MPs said the camp's perimeter fence had been breached several times in the two years before the attack and poppy cultivation was tolerated just outside the base.
The MPs said: "Insufficient attention was given to the fundamental requirement of defending Camp Bastion from external attack assault. We believe this was complacent."
A decision to leave one guard tower empty had "contributed directly to the failure to detect the insurgents at an early stage which might have limited the impact of their assault." Just 11 of the base's 24 towers were manned at the time, the MPs said. They added: "British commanders must bear a degree of responsibility for these systemic failures and associated reputational damage."
The committee also condemned the Ministry of Defence for being "obstructive and unhelpful to us as we tried to establish the facts surrounding the attack".
Madeleine Moon, a Labour member of the committee, told The Independent: "This was one of the most distressing reports to work on. The refusal of the MoD to take responsibility for their failure to ensure Bastion had the high level of protection needed was shockingly complacent."
Philip Hammond, the Defence Secretary said: "The MoD is not complacent and always seeks to capture and learn lessons from current operations.
"Commanders in the field have to prioritise resources against potential threats in theatre and at the time a threat to Camp Bastion was considered to be lower than to other International Security Assistance Force assets in Helmand."