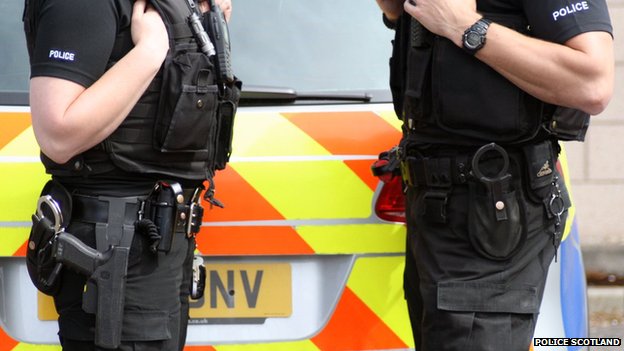 Just over half of respondents have backed the routine arming of firearms officers in a study commissioned by a police body.
The survey of 1,000 people by the Scottish Police Authority suggested 53% were supportive of the policy.
Almost one in three said it increased their confidence in the police.
In October last year, following growing criticism from politicians and civic society, Police Scotland decided to back down on the controversial policy.
It had allowed trained firearms officers to carry side arms while on routine patrols on Scotland's high streets.
The survey, carried out in November of last year, found one in five people said it had had a negative impact on their view of the police. Some 48% said it had not affected their confidence in the force.
In addition to the survey, a further 200 individuals and organisations responded to the SPA's call for evidence.
Almost all of them expressed concerns about armed officers on the street as a routine.
Community engagement
Written submissions to the Scottish Police Authority (SPA) inquiry said Police Scotland had underestimated the strength of community feelings that would be generated among a significant minority of the population, and the extent to which the approach on armed policing would be seen as a major change in policing style.
The SPA, the body responsible for holding Police Scotland to account, announced plans to review the policy last year.
It will publish its full report later on Thursday and is expected to call for Police Scotland to improve public consultation and communication before making any future changes to policy.
Last year politicians and members of civic society criticised the move, which was introduced in April 2013, after images emerged of armed officers in the Highlands and in shopping centres.
At the time, Police Scotland said this meant only 275 trained officers routinely carrying guns – representing just under two per cent of the total officers in Scotland.
'Intriguing response'
Then, in October, the force revealed it would stop deploying these officers to routine calls and incidents – except where there was a risk to life – and that it would review the type of holsters used and visibility of the sidearms.
A source close to the SPA said: "The overall response was quite intriguing because more than half of those in the survey backed the policy. It's a mixed picture but clearly a sizeable number of people and organisations were strongly against this.
"The report makes a number of recommendations around the need for greater and earlier engagement on the development of future police strategies and policies.
"In particular, it recommends that any future changes to the armed policing approach, deployment policy, and mode of carriage of side arms is the subject of advance engagement with both the SPA and wider community interests.
"There were genuine concerns about the lack of communication and engagement with the public and others on what was a significant change in policy.
"The inquiry acknowledges however that there are still likely to be 'time critical' issues that may require Police Scotland to respond to emerging threats, something that has been brought into sharp focus across law enforcement by international events in recent weeks."