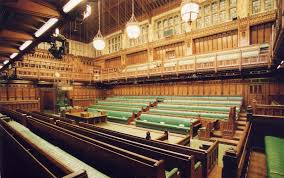 Security and defence news this week has once again centered upon the new Royal Navy aircraft carrier HMS Queen Elizabeth. At the weekend, there was news of an incident in which a civilian landed a drone on the carrier whilst the vessel was conducting sea trials. The Scottish Sun reports that the drone operator, who remains unnamed, managed to land his £300 remotely controlled aircraft on the Royal Navy's most advanced warship completely unchallenged.
The incident took place off the Black Isle in the Highlands, although it is not clear when it happened. The flyer told the newspaper that following the incident, he spoke to local security personnel, who stated that they would raise the issue with their chain of command. The pilot later told BBC Scotland: "I could have been anybody. It was like a ghost ship," adding "I could have carried two kilos of Semtex and left it on the deck."
This week has also seen HMS Queen Elizabeth's first arrival into Portsmouth. Amidst tight security, including MDP Marine units, the vessels entered harbor in the early hours of 16th August. The Guardian reports that thousands of people lined the walls of Portsmouth harbour to welcome the UK's £3bn aircraft carrier. Those on board and watching from the shore were treated to two separate flypasts of Royal Navy helicopters.
Theresa May hailed the ship as a symbol of the UK as a "great global maritime nation". Speaking on board, the Prime Minister said: "Britain can be proud of this ship and what it represents. It sends a clear signal that as Britain forges a new, positive, confident role on the world stage in the years ahead, we are determined to remain a fully engaged global power, working closely with our friends and allies around the world."
The risk commercial drones pose to military targets is already well know, and they have already been used by ISIS fighters in Syria and Iraq to deliver small bombs. This incident shows that additional measures will be needed to ensure the safety of assets such as the aircraft carriers whether they are at sea or in port.
The escort provided by MDP vessels as HMS Queen Elizabeth entered harbour demonstrated the important role MDP officers will have in protecting these vessels during their time in service. We will ensure that both parliamentarians and the public are kept aware of the vital role the MDP plays in defending these assets, and of the folly any cuts to officer numbers would represent. 
·       Civil Nuclear Police Federation demand clarity on infrastructure police plans
·       Met armed police to deploy helmet cameras
·       Warning that Islamist terrorism challenge 'will last decades'
·       Army instructors face court marshal
·       More soldiers caught taking drugs on foreign deployments
·       Hate crime reports rose after terror attacks, data shows
·       Police Scotland warn of pressure on resources
Civil Nuclear Police Federation demand clarity on infrastructure police plans
Police Oracle reports that Mark Nelson, the chairman of the Civil Nuclear Police Federation, has demanded that the Government provide clarity over its plans for the establishment of an infrastructure police force. The measure was put forward in the 2017 Conservative General Election Manifesto, but no legislation to support the move was proposed in the subsequent Queen's Speech.
Mr Nelson said, "For some time now there has been talk in Government circles over plans to merge the Civil Nuclear Constabulary, the Ministry of Defence Police, and the British Transport Police into an infrastructure police". He added "No one seems to know where these plans for an infrastructure police are heading. Least of all our members." Mr Nelson also noted that a merger could help solve the current pensions issue facing the Civil Nuclear Constabulary which will see their members required to work until 67 or 68 despite being required to meet exacting fitness and firearms standards.
Responding to Mr Nelson's comments, the Department for Business, Energy and Industrial Strategy said: "The benefits of a national infrastructure police force are being considered by the Home Office as part of their Strategic Defence and Security Review. The CNC are fully involved in this process and remain committed to identifying collaboration and interoperability opportunities."
The DPF are key stakeholders in discussions with the Government over the possibility of forming an Infrastructure Police Force. However, the absence of legislation to support such a move in the Queen's Speech means that major changes are likely to be some way over the horizon. The DPF's dialogue with the Government over the need to bring MDP officer retirement ages into line with their Home Office counterparts is also ongoing. 
Met armed police to deploy helmet cameras
The Daily Telegraph reports that firearms officers working in London will be given head-mounted cameras to boost transparency, more than three years after the plans were first mooted. The Metropolitan Police said officers working for armed response units will have the devices attached to baseball caps and ballistic helmets. Cameras have already been given to 17,500 officers in the country's largest police force, with the latest tranche seeing 1,000 members of Firearms Command getting the devices.
The plans for head-mounted cameras for firearms officers were first suggested by previous Met commissioner Sir Bernard Hogan-Howe in 2014 in the wake of the death of 29-year-old Mark Duggan. London mayor Sadiq Khan said the technology "will make a real difference to those carrying firearms".
These cameras are also being deployed in an attempt to boost recruitment for armed units. Studies have shown that officers are often wary of transferring to firearms teams due to the risk of prosecution in the event they are forced to open fire. These cameras should help ensure that an accurate account of events in recorded – hopefully reducing the risk of unwarranted prosecutions.    
Warning that Islamist terrorism challenge 'will last decades'
The Independent reports that Islamist terror will threaten the UK for decades, the former head of MI5 has warned, as the methods of radicalisation and attack continue to adapt. Lord Evans said Britain was facing a "generational problem" seeing extremists energised by recent attacks like Westminster. "We're at least 20 years into this, my guess is that we will still be dealing with the long tail in another 20 years' time – I think this is genuinely a generational problem," he told BBC Radio 4's Today programme.
Lord Evans, who now sits as a crossbencher in the House of Lords, said that when he retired from the domestic security service in 2013 he believed the UK was "over the worst of the al-Qaeda threat". "But then we saw the development and emergence of ISIS with the same ideology and many of the same people," he added. "Since 2013 there have been 19 attempted attacks that have been disrupted and even since the attack at Westminster we are told there have been six disruptions, so this is a permanent state of preparedness," Lord Evans said.
The sustained threat of further terrorist attacks for the foreseeable future means that armed policing capability will remain an asset subject to much demand. Despite plans to expand the armed capacity of Home Officer units, the MDP remain a core element of the UK's response force.
Army instructors face court marshal
The Guardian reports that seventeen Army instructors have been charged with assaulting teenage recruits at a battle camp in Scotland. The instructors face 40 charges of battery, ill-treatment and actual bodily harm. The six alleged victims reportedly claim that, while at a battle camp in Kirkcudbright, Scotland, the instructors punched and kicked them, used their boots to push their heads under water and smeared cow and sheep dung over their faces and into their mouths. Recruits, who were 17 at the time, reported the abuse a few weeks later and a military police investigation was launched. The investigation has reportedly cost £1m and taken three years.
The instructors, from the Army Foundation College (AFC) in Harrogate, North Yorkshire, were charged last week and all deny any wrongdoing. They will appear at a military court next month. An Army spokesperson said: "We can confirm that 17 former recruit instructors are to face court martial proceedings at Bulford court martial centre on 21-22th September. These cases are subject to judicial consideration therefore it would not be appropriate to comment further."
More soldiers caught taking drugs on foreign deployments
The Daily Telegraph reports that an increase in training missions to non-combat zones after the end of the Afghanistan campaign has led to a rise in troops caught taking drugs on deployment, experts have suggested.  The number of soldiers failing drugs tests each year rose from 80 in 2012-13 up to 110 last year. Peter Quentin, land warfare research fellow at the Royal United Services Institute, said that the high-tempo of non-combat deployments could partly explain an increase.
An Army spokesman said drug taking was still less prevalent than in the civilian world. He said: "Drug misuse is not tolerated in the Armed Forces. It reduces operational effectiveness and soldiers caught taking drugs can expect to be discharged."
Hate crime reports rose after terror attacks, data shows
The BBC reports that hate crime reports surged in the days immediately after three terror attacks in the UK this year, police data shows. The National Police Chiefs Council (NPCC) registered "brief increases" in hate crime reports following attacks at Westminster, Manchester and London Bridge, but not after Finsbury Park. In the week after each attack, hate crime reports increased by 12% after Westminster, 50% after Manchester and 34% after London Bridge. NPCC hate crime lead, Assistant Chief Constable Mark Hamilton, said reports "quickly subsided within a few days". By contrast, hate crime reports were seven percent lower in the week after the Finsbury Park attack.
Police Scotland warn of pressure on resources
The Scotsman reports that Scotland's national police force is operating with "diminishing resources" and becoming "increasingly stretched" in its attempts to engage with local communities, according to those on the frontline. An evaluation of police and fire service reform heard from Police Scotland officers that community policing is being "hampered" by other organisational pressures. The report by the Scottish Institute for Policing Research (SIPR) also found low morale among officers, with many no longer considering policing a "job for life".
The SIPR, a collaboration between 13 of Scotland's universities and Police Scotland, interviewed police officers, local councillors, community organisations and members of the public. It noted the police have continued to provide a "valued service" to the public since the creation of the national force in 2013, with an improved capacity to deal with major incidents. But it said there are concerns among officers and the public that there is less of a visible police presence and that local resources are more likely to be spread over larger geographical areas.
DPF HQ