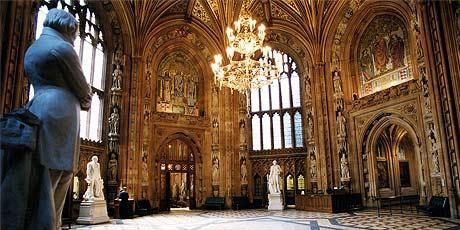 This week's main UK security and defence news has been the statement from the head of MI6 claiming that ISIS terrorists are planning attacks on the UK from Syria. The Times reports that, in an unprecedented speech, Alex Younger indicated that his agency has infiltrated the terrorist group. These MI6 agents have helped MI5 and the police to identify and stop threats to the UK and elsewhere, he said.
The spy chief said that the scale of the threat from terrorism is unprecedented, but he also warned about the "increasingly dangerous phenomenon" of hybrid warfare, such as cyber-attacks and propaganda operations by hostile countries such as Russia. "The risks at stake are profound and represent a fundamental threat to our sovereignty," Mr Younger noted. Mr Younger also issued a strong warning to President Putin that Russia's military action in Syria in support of President Assad, who is fighting pro-western rebels as well as extremists, risked prolonging the global threat emanating from the warzone rather than bringing peace.
The comments were made in the first ever on-the-record briefing to journalists given inside MI6's headquarters on the bank of the River Thames in Vauxhall. The speech marked the latest attempt by the spy agency to step out from the shadows and explain what it does to the public — something that the organisation realises that it has to do to ensure support.
In commenting on political events publicly, the leaders of the UK's intelligence services will have to tread a fine line between articulating the threats the country faces in order to generate support, and making sure that they do not become props to Government policy. However, Mr Younger's comments represent a timely reminder of the threat to UK national security – and the need for robust security for the public and critical assets/infrastructure.
'Marine A' wins chance to appeal conviction
No new inquiry into killings by British troops, say Northern Irish police
Lawyer admits misconduct over Iraq abuse claims
Upgraded Tasers expected to be deployed 'within weeks'
£98m order placed for development of new RAF 'drone' fleet
'Bobbies on the beat' a rare sight in parts of the country
Drugs crackdown in Portsmouth sees 12 arrested
HMS Illustrious heads to scrapyard
'Marine A' wins chance to appeal conviction
The Daily Telegraph reports that a Royal Marine serving a life sentence for murdering a Taliban captive has a "real possibility" his conviction will be quashed, an independent review has concluded after examining new evidence. Investigators at the Criminal Cases Review Commission (CCRC) ruled the case should be heard again because of new evidence about Blackman's mental health and concerns his court martial had no option to hand down a lesser manslaughter verdict. He was given a life sentence, of which it was ruled he had to serve at least eight years, in 2013.
The CCRC decision follows a high-profile campaign by Mr Blackman's wife, Claire, and supporters who argue he should have faced a manslaughter charge because of the strain and appalling conditions he endured before the September 2011 incident in Afghanistan's Helmand province. Lawyers for the 42-year-old former sergeant hailed the move as a "very significant" step and announced they would immediately mount a bail application to try to have him home by Christmas.
No new inquiry into killings by British troops, say Northern Irish police
The Guardian reports that police in Northern Ireland have no plans to launch a fresh inquiry into killings carried out by British troops during the Troubles. The Force issued the statement after a front-page report in The Sun said officers would reinvestigate all 302 killings carried out by British troops. The paper said at least 500 ex-servicemen, many now in their 60s and 70s, would be "viewed as suspects" during the process. However, the Police Service of Northern Ireland (PSNI) clarified that officers in the Legacy Investigations Branch (LIB) were reviewing all murder cases linked to the Troubles. "There is no new single probe or bespoke inquiry into deaths attributed to the British Army," said Assistant Chief Constable Mark Hamilton, head of the PSNI's Legacy and Justice Department. "All Troubles-related deaths will be reviewed by LIB using the case sequencing model, which does not prioritise military cases. This is not a new decision."
The PSNI announced in 2013 that it would review all killings attributed to the military, following a report by Her Majesty's Inspectorate of Constabulary that year which found that troops and policemen could face murder or manslaughter charges for killings that occurred when they were on duty.
Lawyer admits misconduct over Iraq abuse claims
The Guardian reports that human rights lawyer Phil Shiner, whose most high profile case exposed the torture and death of Baha Mousa at the hands of British troops in Basra in 2003, has admitted a string of misconduct charges. Mr Shiner faces being struck off by the solicitors disciplinary tribunal – bringing to an end a career in which he has been involved in a number of cases alleging systematic brutality and torture of prisoners by British troops and in doing so becoming a thorn in the side of the MoD.
The tribunal was told that Mr Shiner had sent a letter admitting eight allegations of acting without integrity, and nine more charges in part, accepting that he acted without integrity but denying dishonesty. The admissions include that he encouraged and authorised an agent – referred to as Z – to make unsolicited direct approaches to potential clients. The disciplinary case against Mr Shiner was brought after the Al-Sweady inquiry, set up to examine whether British soldiers tortured and murdered detainees following the battle of Danny Boy, concluded in 2014 that the most serious claims brought were "the product of deliberate lies, reckless speculation and ingrained hostility".
The Government has announced that it is to bring forward legislation designed to prevent false allegations being brought against UK military personnel.
Upgraded Tasers expected to be deployed 'within weeks'
The Guardian reports that police officers across Britain are expected to be issued with a new and more powerful Taser gun despite calls for use of the potentially fatal weapon to be curtailed. Home Secretary Amber Rudd is due to give approval to the new model of the electric stun gun within weeks. The X2 model has a second shot, in case the first fails to subdue a suspect, and is equipped with a warning crackle of bright electric light designed to encourage suspects to surrender before being fired upon.
The Home Office has been studying the new Taser for several months after police applied to use it in Britain. The current single-shot model, the X26, used by UK police forces, is 13 years old and spare parts are beginning to run out. Its likely successor, like the current model, delivers a 50,000-volt surge of electricity to incapacitate a suspect. The Police Federation wants any officer who wants a Taser to be given it. The Home Office said: "We have now received a formal request from the police to authorise a replacement device and a decision will be made in due course."
Despite objections from human rights groups, there appears to be little political or public appetite to resist the further deployment of Tasers.
£98m order placed for development of new RAF 'drone' fleet
Reuters reports that the MoD has signed a £98m contract with General Atomics for development of a new drone, and plans to eventually buy 20 of the new unmanned planes, Defence Secretary Sir Michael Fallon has announced. "We're planning to buy 20 aircraft that will double our current fleet," Sir Michael told Reuters in an interview at the Reagan National Defense Forum in southern California, adding "We have ten aircraft that still have some life in them, but we need to think ahead." The contract announced on Saturday is for development work, not the cost of producing the 20 planes.
The new aircraft, a modified version of the Predator aircraft, to be called Protector in Britain, will form a vital part of Britain's security network and would be used in Britain's fight against the Islamic State-type militant group.
'Bobbies on the beat' a rare sight in parts of the country
The Daily Telegraph reports that more than half of people in some parts of the country have not seen a single "bobby on the beat" in their local area in the past year, data indicates. More than a third (36 per cent) of the 26,057 people questioned by Ipsos Mori on behalf of HM Inspectorate of Constabulary said they had not seen a uniformed police presence on foot in their area in the past twelve months.
The worst area for police visibility is Bedfordshire, where 60 per cent of those surveyed said they have not seen a uniformed police officer or PCSO patrolling their streets in a year. In contrast, those who live in South Wales enjoy the most visible police presence, with 19 per cent of people saying they had seen an officer at least once in the past week. The Metropolitan Police in London also did well for visible police on patrol, with 18 per cent saying the same.
Drugs crackdown in Portsmouth sees 12 arrested
The Portsmouth News reports that people were arrested over three days of action against drug dealing this week. Police, the UK Border Force, the MDP and Portsmouth City Council took part in the raids. Out of the 12 arrested, four were held on suspicion of drug offences. Chief Inspector Jim Pegler said: 'We will continue to disrupt drug dealers' activities and reduce the demand for them in the city. We are determined that people who bring drugs into Portsmouth feel that they are at constant risk of being stopped, arrested and generally disrupted. We will be relentless in tackling people who bring this misery to Portsmouth.'
This operation provides a further example of the support MDP officers routinely render to Home Office constabularies.
HMS Illustrious heads to scrapyard
The BBC reports that the former aircraft carrier HMS Illustrious has sailed out of its home port of Portsmouth for the final time. The MoD announced earlier this year it had been sold for £2m to a ship recycling company in Turkey. It had been hoped the former flagship could be saved as a tribute to the decommissioned Invincible Class aircraft carriers. Crowds lined the shoreline for the ship's departure for a Turkish scrapyard. The 22,000-tonne ship, also known as Lusty, left service in 2014 after 32 years. It had been deployed to conflict zones including Bosnia, Iraq and Sierra Leone.
In October 2013, the MoD sought innovative bids to keep Illustrious – the fifth warship and second aircraft carrier to carry the name – in the UK. It had hoped part – or all – of the ship could be developed for heritage purposes, but earlier this year it was announced none of the bids had been viable and it would follow Invincible and Ark Royal to a Turkish scrap yard.
Eamon Keating
National Chairman