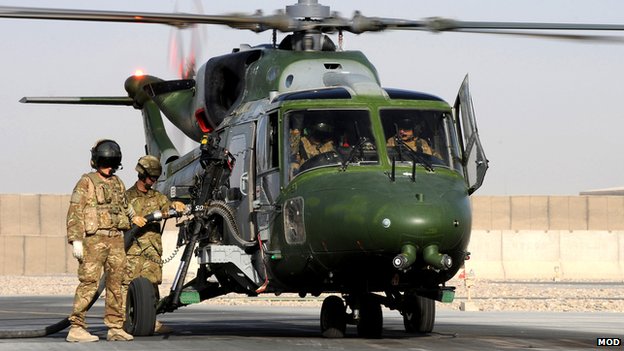 Five UK service personnel who died in a helicopter crash in southern Afghanistan have been named by the MoD. Capt Thomas Clarke, Warrant Officer Class 2 Spencer Faulkner and Cpl James Walters were from the Army Air Corps.
The other two killed were RAF intelligence officer Flt Lt Rakesh Chauhan and L/Cpl Oliver Thomas of the Intelligence Corps. An investigation has begun into how the Lynx helicopter came down in Kandahar province on Saturday morning.
The MoD said the crash appeared to have been a "tragic accident". Capt Clarke, WO Faulkner, Cpl Walters and Flt Lt Chauhan were stationed at RAF Odiham in Hampshire. L/Cpl Thomas, an Army reservist from 3 Military Intelligence Battalion, was based in London. He was a researcher for the MP for Brecon and Radnorshire, Roger Williams.
Cpt Clarke, 30, from Cowbridge, south Wales, was a rising star in the Army Air Corps. His family said he had a passion for life, and was a wonderful husband, son, brother and friend.
WO Faulkner, 38, was described by his family as a loving husband to Cally and devoted father to Natasha and Jack. His commanding officer called him a stalwart of the squadron, who displayed leadership and bravery. Cpl Walters, 36, from Leedstown near Hayle in Cornwall, termed a huge character by his colleagues, leaves a widow Tracey and daughter Lainey. His family said his loss had left a huge hole in all their hearts.
L/Cpl Thomas, 26, from Brecon, Powys, "bright and gifted", his family said he lived life to the full. Flt Lt Chauhan, 29, from Birmingham, was on his third tour of Afghanistan and was described as charismatic and loyal, his sense of humour "contagious".
Gp Capt Richard Maddison, station commander at RAF Odiham, said: "I am extremely saddened to hear of the loss of Captain Thomas Clarke, Flight Lieutenant Rakesh Chauhan, Warrant Officer Spencer Faulkner and Corporal James Walters, all who served at Royal Air Force Odiham.
"My deepest sympathies are with their families and friends at this most difficult time, and also with the family of Lance Corporal Oliver Thomas, who was not from Royal Air Force Odiham but who was also on the Lynx aircraft." The aircraft went down in the Takhta Pul district of Kandahar, some 30 miles from the Pakistan border. The MoD said the accident happened during "a routine flight" and that the crash site, close to Kandahar airfield, had been cordoned off.
The Taliban said its fighters shot the aircraft down but BBC defence correspondent Caroline Wyatt said her sources suggested the cause of the crash could have been "technical problems". It is the first fatal accident of the Afghan conflict involving a UK military helicopter and the third biggest loss of life of British troops in a single incident in the country since the invasion in 2001.
The MoD said it did not know how long it would take investigators to report back on what happened. The deaths bring the number of British forces personnel killed in the conflict in Afghanistan to 453. Nato forces, including UK troops, are preparing to withdraw combat troops by the end of this year, handing responsibility for fighting the Taliban uprising to Afghanistan's army and police.